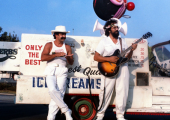 Cannabis Ice Cream:
Ingredients:
25G ((2 table spoons or 1/4 of a stick)) Butter
18FL OZ Single Cream
75g sugar
Pinch salt
1/4 Ounce Crumbled hash
OR
10G crushed bud
15OZ Bananas
3 Tablespoons Rum
5 Tablespoons Honey
Cooking Instructions:
Difficulty: Complicated
Contains Marijuana: Yes
One of the best ways to consume pot and satisfy your munchies at the same time is to eat it as ice cream. Gently ((!!!)) heating cannabis with cream is an extremely efficient way of maximizing the extraction of the THC components of cannabis. And storing the ice cream in the freezer will maintain it's potency for months to come. However, to get the best results, use hash rather then grass in the recipe.
Heat the cream in a saucepan until nearly boiling. In a second saucepan melt the butter with the sugar and salt. Hear the hash with a flame and crumble it into the melted butter, stirring all the while. Then whisk the cream with the butter.
Peel the bananas. Put them into a large bowl and mash em up. Add cream, rum, and honey. You can add other stuff for flavor if you want, oreos, nuts, etc. Beat well to mix. Pour mixture into a chilled shallow plastic container. Cover and freeze for a few hours until the mixture is a mushy consistancy. Turn out mixture into a chilled bowl. Whisk until smooth.
Return the mixture to the container, cover, and freeze until firm. Transfer to the fridge 30 minutes before serving to soften it up.
SERVES SIX