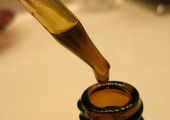 Cannabis Glycerin Tincture
An easy made recipe, that with time, and love is very medicinally effective.
trichomed filled bud trimming
vegetable grade glycerine
I make a non-alcohol based tincture by first having enough juicy trichomed filled trim (and buds) to fill the size of canning jar you have. I use quart and half gallon canning jars. First take your dry trim and crush it up then soak it in [b]cold[/b] water for 15-20 minutes ( this is done to rinse out the chlorophyll), then drain well. Put enough trim in your jar to fill it to about 3/4′s full. Add vegetable grade glycerin to within a few inches of the top. Cap and store in cool dark place, taking out at least once daily and roll and shake for 5-10 minutes. This process should be done at least 60 days, and can be left even longer for stronger tincture. I then empty everything into a pot and cook on very low for 10-15 minutes to help separate more of the trichomes, (never getting over 175 degree's). Then strain and or press to separate trim from glycerin. Some use coffee filters to for final straining, I myself use a piece silkscreen.
MMMMMMMMM good stuff.